Sakaigahama Sea Station
Mihara Sea Station
Onomichi Sea Station
Address

Urasaki Town, Onomichi City, Hiroshima Prefecture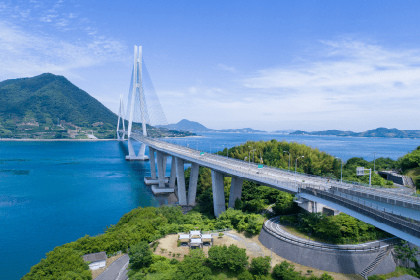 Shimanami Highway
The total length of 60km from Onomichi to Shikoku is spanned by 9 unique bridges. Each bridge has a bicycle and pedestrian-only road (total length of approximately 80km), so you can walk or cycle along the entire route.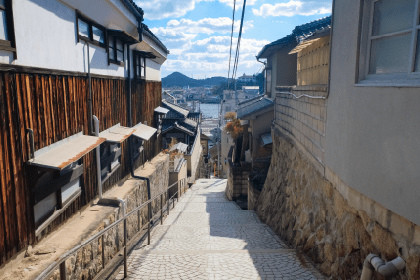 Onomichi city
Onomichi is a scenic port town that boasts stone-paved roads and spreads out across the Seto Inland Sea. Such beauty has led to it to become the setting for various literatures and movies; this includes the works of Fumiko Hayashi, Naoya Shiga and the Onomichi trilogy director; Nobuhiko Obayashi.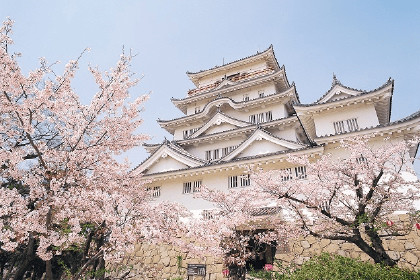 Fukuyama Castle
The castle town of the Fukuyama is widespread and hosts 110,000 koku. Adjacent to the station is Fukuyama Castle, which was restored after the war. This is the second largest city in Hiroshima Prefecture and the centre of the Bingo region.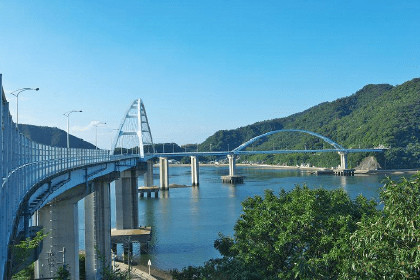 Utsumi Bridge
With a total length of 832m and a large curve in the centre, it matches well with the beauty of the many islands in the Seto Inland Sea. From the bridge, you can enjoy the view of the passing boats and the ever-changing Seto Inland Sea.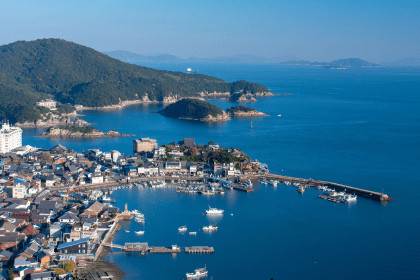 Tomonoura
Due to the unusual topography of the Seto Inland Sea, there is a tidal reversal phenomenon. Tomonoura has a good natural harbour which enabled the town to prosper for 2,000 years. The waiting for the tide to change at the harbour was called the "tidal waiting".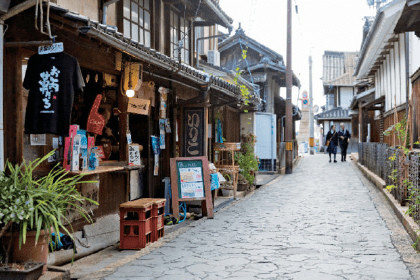 Tomonoura town
In the Taisho period, the scenic spot of Tomo Park was designated as an official tourist location. Tomo-no-Ura boasts a 2000 year history of prosperity and so has attracted worldwide interest as a renowned historic World Heritage site.
Mihara Sea Station
Address

3-1 Shiromachi, Mihara City, Hiroshima Prefecture
North latitude/East longitude

34°23´53"/133°04´55"
Business hours

Mihara Inner Harbour Monitoring Room 8:30-19:30
Mihara City Port Division: Monday-Friday 8:30-17:15 (excluding Saturdays, Sundays and public holidays 12/29-1/3)
Arrival and departure time

8:00 ~ 20:00
Regular holidays

Saturdays, Sundays, and holidays, 12/29-1/3
Access

Approximately 22 minutes by car from the Sanyo Expressway Miharakui IC
Approximately 3 minutes on foot from the JR Mihara Station
Onomichi Sea Station
Address

2-10-3 Tsuchido, Onomichi City, Hiroshima Prefecture
North latitude/East longitude

34°24.453´/133°12.145´
Business hours

8:30~20:00
Regular holidays

None (Closed on the Onomichi Minato Festival and Sumiyoshi Fireworks Festival days)
Access

From the Sanyo Expressway Onomichi IC, take the National Route 184 to Onomichi Port via National Route 2 (approximately 20 minutes)
Get off at "Shin-Onomichi" on the JR Sanyo Shinkansen and take a bus bound for "Onomichi Station"
15-minute walk from the JR Sanyo Main Line "Onomichi Station"